Mortgages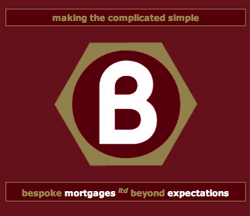 08000 355 888
Here at BRW we realise how valuable a professional mortgage advisor can be within our industry.
Bespoke Mortgages Ltd are an independent firm of mortgage advisers who specialise in providing our clients with a solution to all their mortgage and financial requirements.You don't have to do any of the looking. They'll do it for you. They use the latest software to search through the thousands of mortgages on offer and find the one that best matches your circumstances. They recommend that one, and only that one, to you. And they explain, why, in plain English.
To be sure of finding the right mortgage, they have to ask you about your personal circumstances and financial situation. It would be the same with any other mortgage service. If it makes you uncomfortable, don't worry. It's normal. They'll do their best to make it easier for you. When you visit them you'll find their approach relaxed and their offices pleasantly informal. Or, if you prefer, they can come to you instead.
If you wish, they'll not only find your mortgage but also advise and support you in other aspects of buying your home. They can guide you through the stages, making sure you don't overlook anything. It's your choice. They won't interfere. They'll just be there if you need them.
As well as helping you to buy your property, they'll also give you information on the insurance cover you should have to protect and keep it. House insurance will be a condition of the mortgage. For the rest, they'll explain the risks and the mortgage protection cover available and give you their unbiased advice.
If you're a first time buyer, they'll get you off to a flying start. If you're moving or remortgaging, they'll find you a better deal. If you're a tenant with a right to buy*, they'll help you seize the opportunity. Whatever the circumstances, Bespoke Mortgages Limited makes the complicated simple and provides a service for homeowners that exceeds expectations.
* The overall cost for comparison is 7.6%
YOUR HOME MAY BE REPOSSESSED IF YOU DO NOT KEEP UP REPAYMENTS ON YOUR MORTGAGE. THERE MAY BE A FEE CHARGED FOR MORTGAGE ADVICE. THE AMOUNT WILL DEPEND ON YOUR CIRCUMSTANCES BUT WE ESTIMATE IT WILL BE 1% OF THE LOAN ARRANGED.